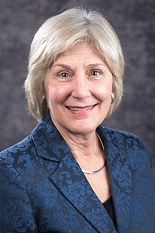 Professor, Depts of Medicine, Psychiatry, and Industrial & Systems Engr
Co-Director, WISELI/Director, UW Ctr for Women
University of Wisconsin-Madison
Dr. Molly Carnes is a professor in the Departments of Medicine (Geriatrics), Psychiatry, and Industrial & Systems Engineering at the University of Wisconsin-Madison. She did her undergraduate work at the University of Michigan, received her MD from SUNY at Buffalo, and did her Internal Medicine residency and Geriatrics fellowship at the University of Wisconsin where she also received an MS in Epidemiology. Dr. Carnes directs the Center for Women's Health Research in the School of Medicine and Public Health, the Women Veterans Health Program, and co-directs the Women in Science and Engineering Leadership Institute in the College of Engineering.
The overall goal of her research program is to develop, implement, and study interventions that ensure the opportunity for participation and advancement of talented individuals from groups that have been underrepresented in academic science, technology, engineering, mathematics, and medicine (STEMM) - particularly at the leadership levels. Using UW-Madison as a "living laboratory" for achieving STEMM workforce diversity, she employs both quantitative and qualitative methods with multi-level interventions at the individual and institutional level.
Dr. Carnes initially began conceptualizing STEMM workforce diversity issues from an epidemiological perspective (i.e., what was "killing" talented women and minority trainees and faculty off as they progressed toward the professoriate) and she has progressively moved toward an organizational change approach. For the past decade, she has been studying ways in which unconscious (implicit) assumptions about groups underrepresented in STEMM infiltrate decision-making processes and conspire unintentionally against STEMM workforce diversity. She teaches a course annually on Women and Leadership in Medicine, Science and Engineering. Her current research, funded by the NIH, aims to effect institutional change by promoting "bias literacy" among STEMM faculty and developing a variety of tools to help faculty "break the bias habit."
Dr. Carnes has published over 125 articles and has received a number of awards including an NSF ADVANCE Institutional Transformation Award, an NIH Director's Pathfinder Award for Research to Promote Scientific Workforce Diversity and, most recently, an NIH Transformative R01 to Explore the Science of Scientific Review.